Raising quality kittens that capture your heart



Located in the beautiful Pacific Northwest
Just west of Portland, Oregon

Explore our website and see what the Ragdoll has to offer!
---
We currently do not have any kittens available at this time. Please see more information and photos on the Available Kittens page.


We also have two adults available for adoption, please photos below and more information on the Adults for Adoption page. Please call for more information about upcoming litters and check back for updates.
Pictures of our previous kittens are on Past Litters Page.

You can email us at ragdollheaven@msn.com, or call or text us at 503-459-2837 for more information on available kittens and upcoming litters.
Website updated 11/11/2023
Miss Luna who is available for adoption
Miss Blue who is available for adoption.
---
Welcome to My Ragdoll Heaven.




My Ragdoll Heaven is a small cattery located just outside of Portland, Oregon. Our Ragdolls are like our children and we do not believe in caging. We specialize in happy, healthy, big, gorgeous ragdoll kittens. We live, sleep, and do just about everything else with our cats and kittens to enrich an already wonderful breed. All our kittens are well

socialized to ensure the most enjoyable pet.



At My Ragdoll Heaven we give our kittens the very best of everything. From food to toys, everything in our house is dedicated to our cats. We guarantee our kittens health. We work with bicolor, color point, mitted, and lynx markings



in blue, seal, chocolate and lilac colors. We occasionally have Minks as well.
We are happy to have potential adopters visit our home

and see how the kittens are raised. Just call us t

o set up an appointment!




Please keep in mind that there are others who sell their kittens for less, there are no "Bargain Ragdolls". Always make sure any Ragdoll kitten you adopt comes from a Registered Cattery, with registered parents, have been vaccinated and de-wormed at least twice and should be at least 10 weeks of age before leaving.

All of our Breeders are HCM negative and Leukemia Free.




All kittens are Vaccinated twice and de-wormed, flea and parasite free, and are Veterinarian health checked before leaving for new homes.
---
Any photos of kittens below this text are of kittens that are RESERVED or already in FOREVER HOMES.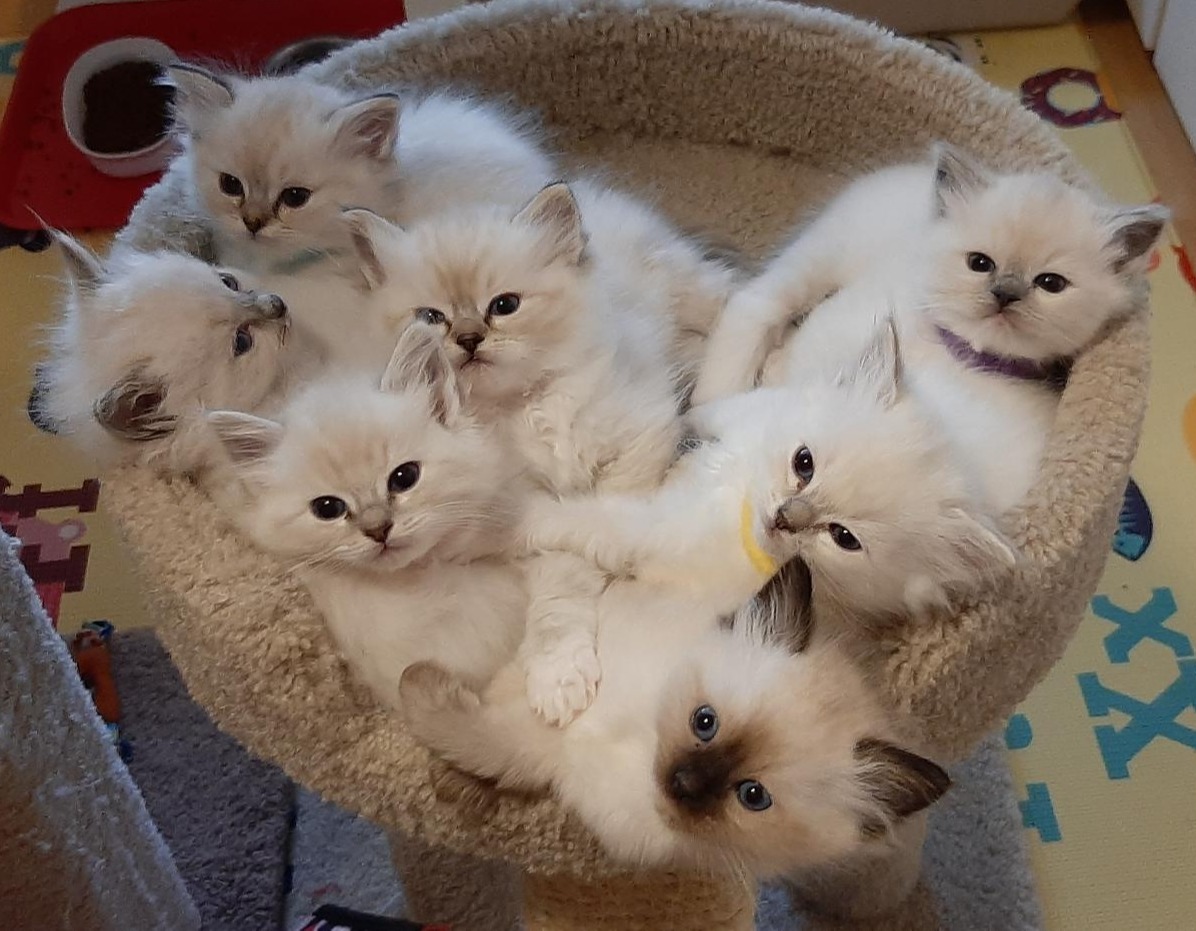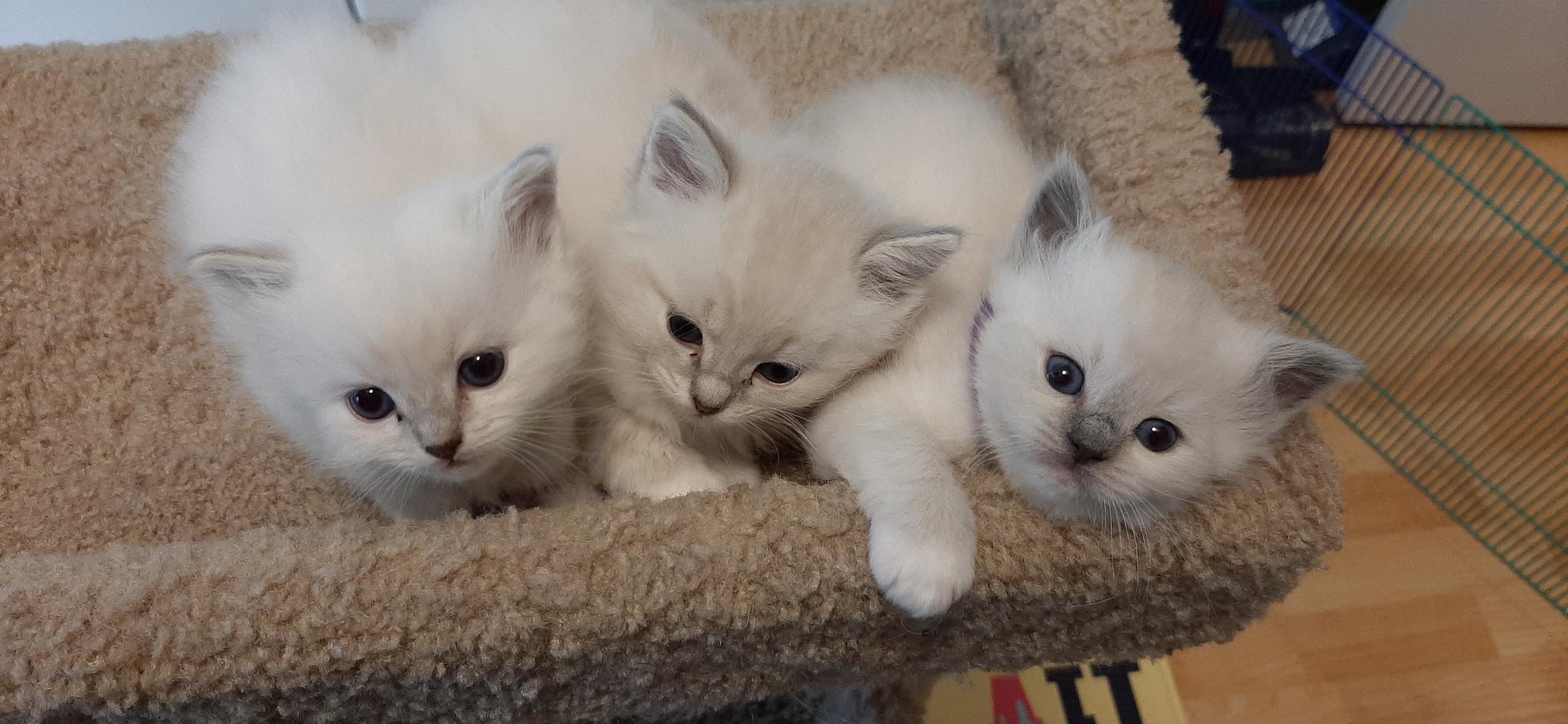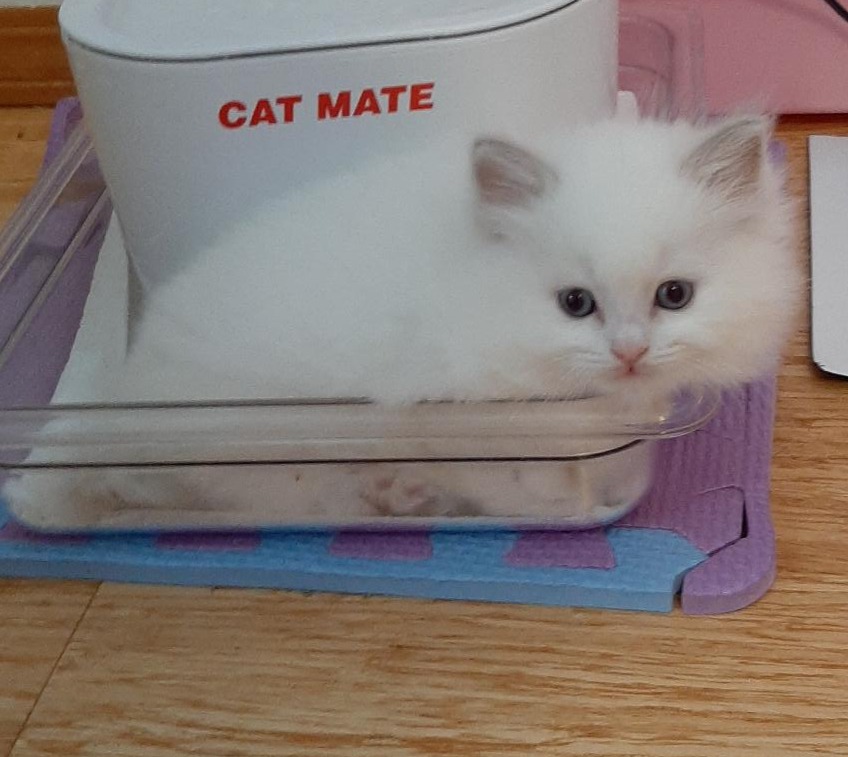 One of our recent litters, they are all with there forever homes.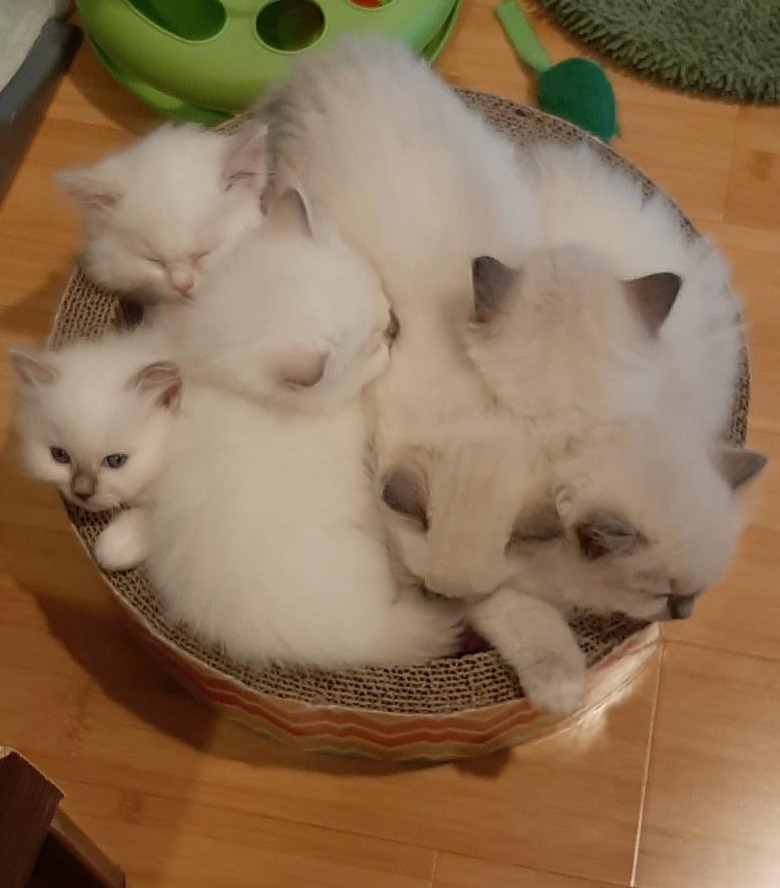 Another of our recent litters, they are all with there forever homes.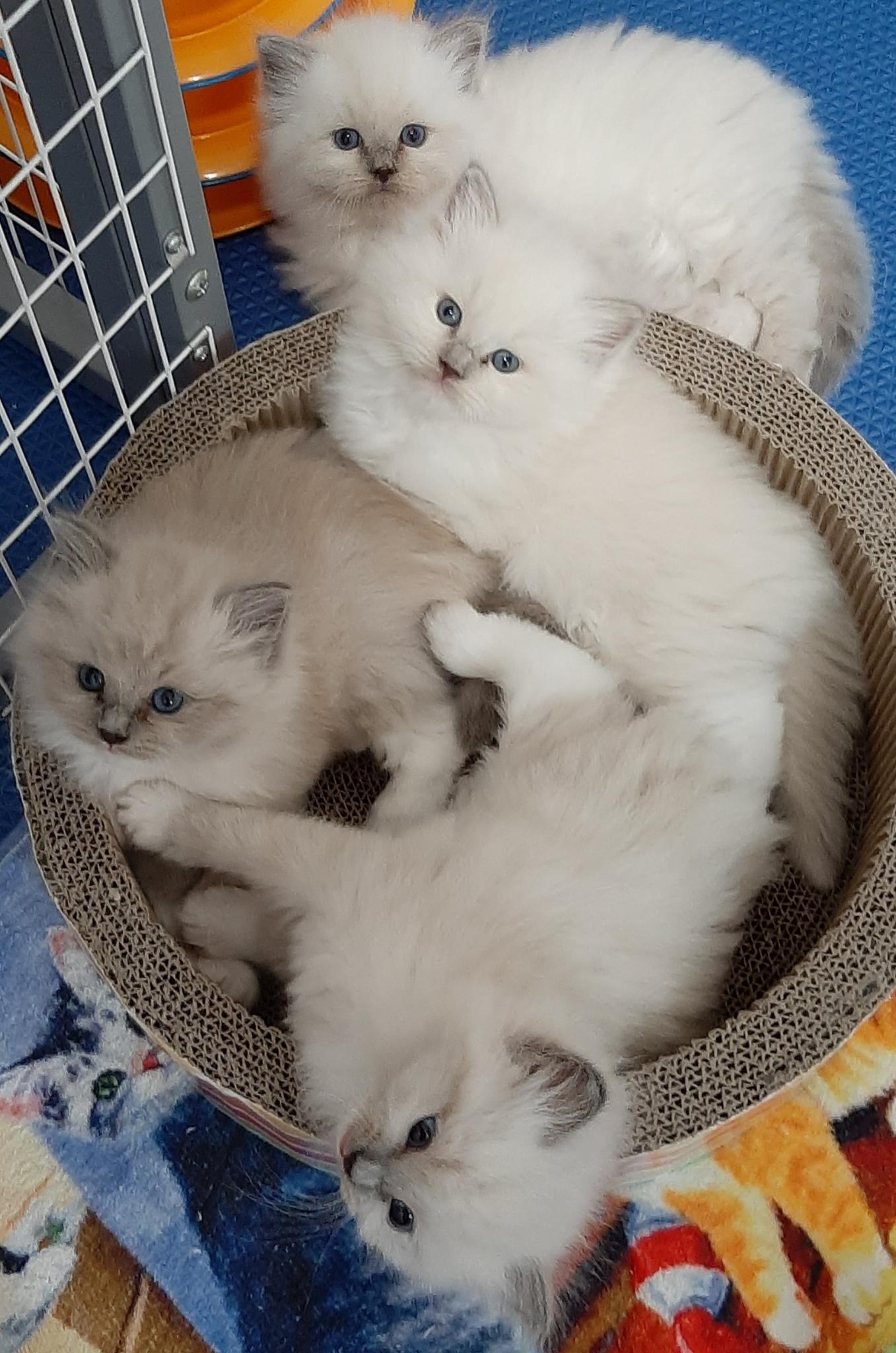 Lilac point mink female kitten that is now at her forever home.

Previous kittens that have their forever homes

---
7 Month Old Blue Point Mitted Female
Spring Photo of a Reserved Kitten
Spring of 2018, blue point kitten
Spring of 2018, blue mink point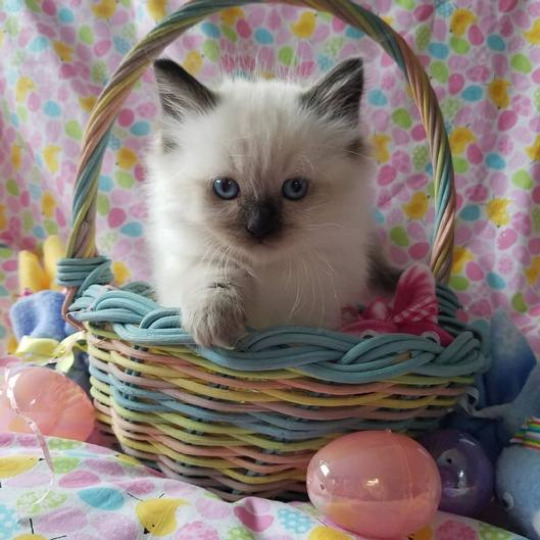 Spring of 2018 Photo 0f seal point kitten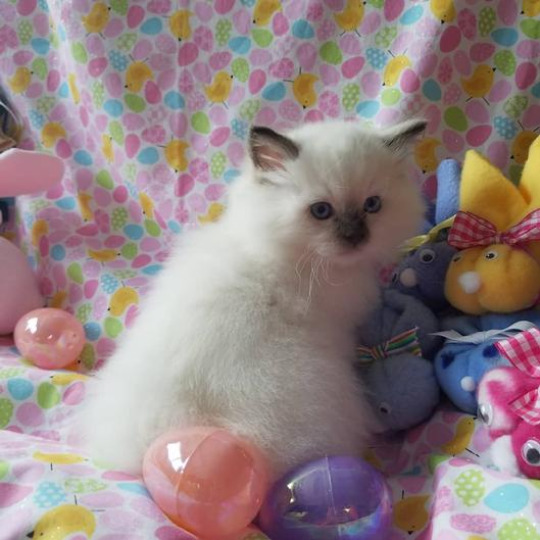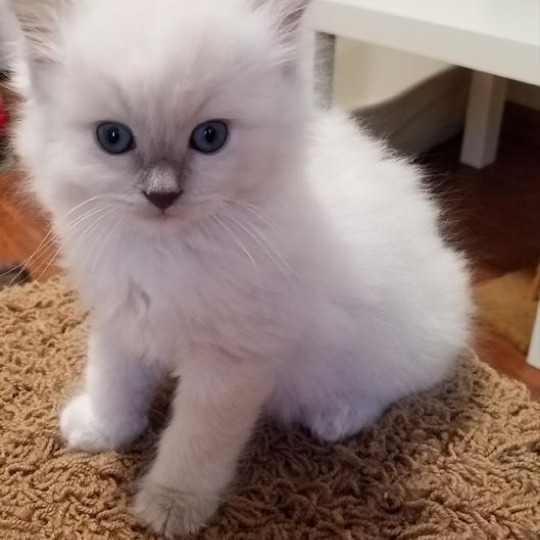 The litter of five kittens. They all have gone to their forever homes.
Hi there! He is doing so well! He is healthy and very spoiled.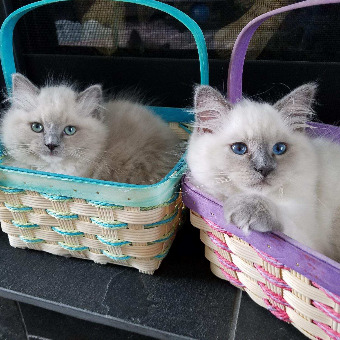 "The girls found their Easter baskets!"
Tricia

"Emerald and Jasmine"
Jackie

"He absolutely adores our golden and curls up with him all the time!"

Cindy
Please call for information and check back for updates.
Elsie

503-459-2837 (Cell)